A340-200
[
]
As the A340 Family's shortest-fuselage member, the A340-200 has a capacity of 261 passengers in a typical three-class layout. With its optimal range of 6,700 nautical miles, this jetliner allows airlines to open long-range, direct routes between city pairs that previously needed intermediate stops.
Airbus launched the A340-200 in 1987 as a new-generation aircraft ideal for long and thin routes, with a special emphasis on travel over water and across remote areas far from airports. It entered into com
mercial service in March 1993, and is powered by four efficient CFM International CFM56-5C4 engines that provide a thrust of 34,000 lb.
Using the optimised 222-inch Airbus widebody cross-section, the A340-200 combines passenger cabin comfort and lower-deck cargo hold efficiency with minimum weight and aerodynamic drag.  In a six-abreast premium seating in first or business class, all high-yield passengers have a window or aisle seat, while an eight-abreast economy layout offers better comfort than competing aircraft.
Like all members of Airbus' family of modern jetliners, the A340-200 features many key innovations – including fuel-saving aerodynamics and advanced weight-saving materials such as carbon fibre; while commonality across the Airbus family of fly-by-wire aircraft brings important reductions in training and maintenance costs.
A340-300
[
]
With a service range of 7,400 nautical miles, Airbus' A340-300 is tailored to meet the needs of the 300-seat long-range market – offering direct point-to-point services and increased flight frequencies at lower costs.
It thrives in many market environments and often forms a key part of a larger international operation with major carriers, operating along with other A330 or A340 models.  As flagships with smaller airlines, the A340-300 provide vital long-range links to and from less populous cities; while it serves as the most cost-effective 300-seat long-range complement for operators of A320 Family aircraft.
The four-engine A340-300 features one of the quietest cabins in the sky – a key element for relaxing long-haul operations – as well as the best economy in its class, which makes this jetliner an airline favourite. The A340-300 seats 300 passengers in a typical two-class cabin configuration, while accommodating up to 440 travellers in a high-density arrangement.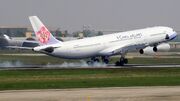 Like all members of Airbus' family of modern jetliners, the A340-300 features a number of key innovations, including fly-by-wire flight controls, which bring increased flight protection as well as weight and cost savings; advanced weight-saving materials such as carbon fibre; and fuel-saving aerodynamics.  Commonality with Airbus' family of fly-by-wire jetliners also brings important reductions in training and maintenance costs, providing customers with an important competitive advantage.
The A340-300 demonstrates outstanding environmental efficiencies, including low fuel burn and reduced engine emissions, while its reduced noise signature comfortably meets international standards.
The A330 Family has five members – the A330-200, A330-300, A330-200F, ACJ330 and A330 MRTT – which cover all market segments with one twin-engine aircraft type. The combination of low operating costs, high efficiency, flexibility and optimised performance makes the A330 Family popular with an ever-increasing operator base. 
As another sign of its continuing success worldwide, Airbus handed over its milestone 1,000th A330 aircraft in July 2013. At the time of this landmark handover, A330 jetliners had logged some 25 million-plus flight hours on 5.5 million flights with carriers around the globe.  
Airbus also has committed to continuously improving the programme since the A330's service entry. The company spends approximately 150 million euros each year on enhancements and incremental improvements for the A330 jetliner family.
As a result of this ongoing improvement, Airbus has further enhanced the product line by offering an increased takeoff weight of 242 tonnes. This upgrade will first be applied to the A330-300 – with service entry planned from mid-2015 – and subsequently to the A330-200, allowing operators to carry additional payload on longer missions. 
Airbus has also announced a lower-weight A330-300 Regional version, which is to enter service in early 2015. This aircraft will be optimised for use on domestic and regional routes in high growth markets – such as China and Asia – with concentrated traffic flows and is sized to accommodate up to approximately 400 passengers. 
Commonality is further shared across the Airbus product line of widebody and single-aisle aircraft through the use of fly-by-wire controls and cockpits with similar layouts.
 [1]===A330-200=== The versatile mid-size widebody has excellent range and cargo capacityA330-200[2]===A330-300=== The economical mid-size widebody offers the best balance between range and costA330-300
A330 QUALITIES
[
]
The A330 is the most cost efficient widebody twin aircraft in operation.
The multi-talented A330 Family addresses a full range of operational requirements, including airline passenger and cargo service, VVIP and head-of-state transportation, as well as military airlift and in-flight refuelling.
The varied list of A330 operators around the globe ranges from small and low-cost long-haul operators to the world's major flag carriers, along with governments and military services, while these widebody jetliners cover diverse routes and missions ranging from 30 minutes to 14 hours.
As one of the most widely-used widebody aircraft in operation today, the A330 order book had surpassed the milestone of 1,200 firm orders, when the company reached the 1,000th worldwide A330 delivery mark in July 2013. To meet this sustained demand, annual production rate rises of 10 per cent have brought A330 output to a record 10 aircraft per month.  
The A330 provides exceptional operational flexibility at lowest cost, with right-sized cabins for passenger, freight, VIP and multi-role military applications.  It combines Airbus' flight-by-wire technology and modern onboard systems with high aerodynamic efficiency for a highly productive aircraft.
GLOBAL PRESENCE
[
]
As of July 2013's milestone 1,000th delivery, some 1.2 billion passengers had been carried by the twin-engine jetliner, with a takeoff or landing performed every 23 seconds.
Excellent short field performance and long range capability enables the A330 to be efficiently utilised both on established routes and expanding markets.  Its capabilities on medium-haul routes also will make the A330-300 an excellent complement to Airbus' next-generation A350 XWB.
Flown by more than 100 operators, the A330 serves over 300 airports in some 40 countries.
PROVEN VERSATILITY
[
]
Airbus' popular A330 aircraft have become preferred choices for the world's largest airlines, low-cost carriers, private and cargo operators, and military services.  
The A330-200F mid-sized freighter version is tailored for long-haul routes and regional operations to feed cargo into hub airports. The aircraft has flown to all continents with a high reliability rate since its 2010 service entry, with some operators using the freighter up to 400 hours per month. 
For the highly-demanding VIP and private markets, the ACJ330 offers top-end luxury, comfort and range; while the A330 Multi Role Tanker Transport (MRTT) variant is the most modern aircraft for military services' in-flight refuelling and airlift requirements.
Based on the A330 Family's ongoing success, Airbus is also incorporating further enhancements to this widebody product line. The company is introducing an increased maximum takeoff weight (MTOW) of 242 tonnes for its A330-200 and A330-300 variants from 2015. With these upgrades, Airbus will have added approximately 50 per cent more range to the A330 since the aircraft's service entry. 
Also expanding the A330 Family's versatility will be the A330 Regional – planned for certification in 2014, which is to enable an early-2015 service entry. This lower-weight A330-300 version is tailored for regional and domestic operations in high growth areas such as Asia and China, where A330s are already successfully deployed on short- and medium-range routes. The A330 Regional will significantly reduce overall seat-mile costs for operators through important upgrades to its engines, cabin, and design weight, along with the latest cockpit systems.